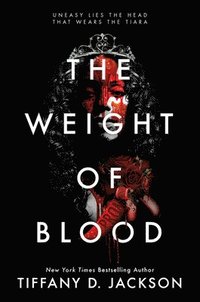 Originaltitel: The Weight of Blood
Sidor: 406 (Inbunden)
Ålder: Unga vuxna
"When Springville residents -at least the ones still alive- are questioned about what happened on prom night, they all have the same explanation...Maddy did it.
An outcast at her small-town Georgia high school, Madison Washington has always been a teasing target for bullies. And she's dealt with it because she has more pressing problems to manage. Until the morning a surprise rainstorm reveals her most closely kept secret: Maddy is biracial. She has been passing for white her entire life at the behest of her fanatical white father, Thomas Washington. After a viral bullying video pulls back the curtain on Springville High's racist roots, student leaders come up with a plan to change their image: host the school's first integrated prom as a show of unity. The popular white class president convinces her Black superstar quarterback boyfriend to ask Maddy to be his date, leaving Maddy wondering if it's possible to have a normal life. But some of her classmates aren't done with her just yet. And what they don't know is that Maddy still has another secret...one that will cost them all their lives."
Alltså, vilken bok! Den bästa hittills i år och den kommer garanterat hänga kvar till min topp tio 2023.
Har man läst Stephen Kings Carrie kommer man att känna igen en del inslag i den här berättelsen. Samtidigt har författaren gjort den helt till sin egen. Den är mer modern, har andra tunga ämnen, som rasism, i fokus och är faktiskt mycket, mycket bättre. Och det säger jag som ett stort Stephen King-fan.
Jag blev så arg och frustrerad flera gånger under läsningen. Det är en bok som ger upphov till många starka känslor. Den är dessutom väldigt svår att lägga undan. Jag ville bara läsa, läsa, läsa. När jag inte kunde läsa tänkte jag på den istället.
Det är väl ganska uppenbart men jag rekommenderar den helhjärtat! Läs den!