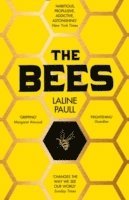 Originaltitel: The Bees
Sidor: 346 (Häftad)
"Born into the lowest class of her society, Flora 717 is a sanitation bee, only fit to clean her orchard hive. Living to accept, obey and serve, she is prepared to sacrifice everything for her beloved holy mother, the Queen. But Flora is not like other bees. Despite her ugliness she has talents that are not typical of her kin. While mutant bees are usually instantly destroyed, Flora is removed from sanitation duty and is allowed to feed the newborns, before becoming a forager, collecting pollen on the wing. She also finds her way into the Queen's inner sanctum, where she discovers secrets both sublime and ominous. But enemies are everywhere, from the fearsome fertility police to the high priestesses who jealously guard the Hive Mind. And when Flora breaks the most sacred law of all her instinct to serve is overshadowed by an even deeper desire, a fierce love that will lead to the unthinkable..."
The Bees
är en väldigt speciell berättelse. Den utspelar sig i en bikupa och varje karaktär är därför, så klart, ett bi. Det tog ganska lång tid innan jag slutade tänka på dem som människor och det gjorde det lite svårt att få in ett flyt, jag var hela tiden tvungen att tänka om när jag föreställde mig något de gjorde.
Men jag gillar själva handlingen. Vi får följa Flora som föds i den lägsta ställningen men hon passar inte riktigt in där och är mer självständig än sina systrar. Något som gör att hon råkar i en del trubbel eftersom det i bikupan är väldigt viktigt att lyda de som står över dig i rang. Hon genomgår en ganska stor utveckling under bokens gång.
Däremot vet jag inte tillräckligt mycket om bin för att veta hur mycket av kupans ordning och regler som faktiskt är taget från verkligheten. Det hade varit lite intressant att veta innan jag började läsa. De få manliga bin som finns med är inte direkt framställda i positivt ljus och återigen har jag ingen aning om det faktiskt fungerar så i ett bisamhälle.
Jag kan tycka att den var lite för lång men i stort uppskattade jag verkligen läsupplevelsen och den var en utmaning för min fantasi!