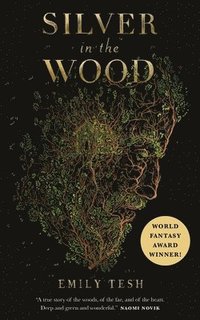 Originaltitel: Silver in the Wood
Sidor: 109 (Häftad)
"There is a Wild Man who lives in the deep quiet of Greenhollow, and he listens to the wood. Tobias, tethered to the forest, does not dwell on his past life, but he lives a perfectly unremarkable existence with his cottage, his cat, and his dryads.
When Greenhollow Hall acquires a handsome, intensely curious new owner in Henry Silver, everything changes. Old secrets better left buried are dug up, and Tobias is forced to reckon with his troubled past-both the green magic of the woods, and the dark things that rest in its heart."
Silver in the Wood är en tunn liten pärla. Det var ett nöje att läsa den och få spendera en stund i Tobias skog och lära känna honom och en del av de väsen han delar skogen med. De flesta var det i alla fall trevligt att lära känna, inte alla, det finns något i skogen som inte är speciellt trevligt.
Jag gillar det lite mer långsamma tempot. Hur vi sakta men säkert får ta del av Tobias liv, hur han hamnade där han är och hur hans kontakt med Henry Silver börjar förändra allt. Det hinner bli spännande också; helt plötsligt är det väldigt mycket som står på spel för Tobias.
Det är en berättelse om skogen, dess väsen och gammal folktro. Jag tyckte verkligen om den och blev extra glad när jag insåg att den har en uppföljare! Drowned Country heter den och den ska absolut läsas framöver.