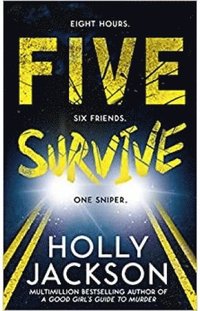 Originaltitel: Five Survive
Sidor: 391 (Häftad)
Ålder: Unga vuxna
"Eighteen year old Red and her friends are on a road trip in an RV, heading to the beach for Spring Break. It's a long drive but spirits are high. Until the RV breaks down in the middle of nowhere. And as the wheels are shot out, one by one, the friends realise that this is no accident. There's a sniper out there. He's watching them and he knows exactly who they are. One of the group has a secret that the sniper is willing to kill for. As a game of cat-and-mouse plays out, the group desperately tries to get help. Buried secrets are forced to light and tensions within the group reach deadly levels. Only one thing is for sure. Not everyone will survive the night..."
Holly Jackson är författaren till serien A Good Girl´s Guide to Murder som jag håller på att läsa mig igenom och verkligen gillar! Five Survive är hennes senaste bok och det är en thriller som riktar sig mot unga vuxna men jag tycker inte den har någon övre åldersgräns.
Jag tycker om den här boken också, även om den inte riktigt kommer upp i samma nivå som hennes tidigare serie i mitt tycke. Det kan vara för att jag inte kommer lika nära huvudkaraktären, Red, här. Med det sagt är det fortfarande en riktigt spännande berättelse!
Jag håller andan flera gånger under läsningen och nerverna är på helspänn. Jackson har dessutom lyckats skriva en karaktär jag kan lägga till på min hatlista. Det är inte Red, men en av hennes kompisar. Fy sjutton vilken avskyr jag känner där.
Hemligheterna och vändningarna är många. En del av det hela anade jag mig till ganska snabbt men mycket var fortfarande oväntat i slutet. Jag längtar redan efter att hon ska komma ut med fler nya böcker!