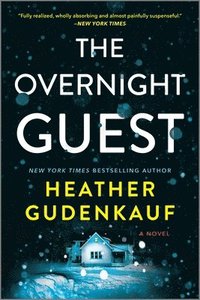 Originaltitel: The Overnight Guest
Sidor: 348 (Häftad)
"True crime writer Wylie Lark doesn't mind being snowed in at the isolated farmhouse where she's retreated to write her new book. A cozy fire, complete silence. It would be perfect, if not for the fact that decades earlier, at this very house, two people were murdered in cold blood and a girl disappeared without a trace.
As the storm worsens, Wylie finds herself trapped inside the house, haunted by the secrets contained within its walls-haunted by secrets of her own. Then she discovers a small child in the snow just outside. After bringing the child inside for warmth and safety, she begins to search for answers. But soon it becomes clear that the farmhouse isn't as isolated as she thought, and someone is willing to do anything to find them."
Det här är en riktigt spännande bok! Vi får följa tre olika perspektiv. Först har vi Wylie i nutid. Hon har åkt till ett ensligt hus för att skriva färdigt sin bok. Huset har ett tragiskt förflutet då två personer mördats där och en flicka försvann. Vi får även följa den familjen i dåtid, fram till morden och sen hur polisen försökt lista ut vad som hänt.
Sen finns det ett tredje perspektiv. En ung flicka som bor tillsammans med sin mamma. Men något stämmer inte riktigt.
Berättelsen har många svängar och det var en sådan bok jag längtade tillbaka till när jag inte läste. Jag ville verkligen veta hur allt skulle sluta. Det här var min första bekantskap med författaren men jag kan absolut tänka mig att läsa mer.
Boken utspelar sig delvis under en snöstorm så letar man en bok att läsa under snöiga och kalla vinterkvällar är det här ett bra tips!