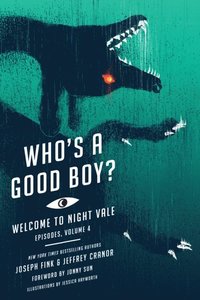 Originaltitel: Who´s a Good boy?
Sidor: 283 (Häftad)
"From the authors of the New York Times bestselling novels It Devours! and Welcome to Night Vale and the creators of the #1 international podcast of the same name, comes a collection of episodes from Season Four of their hit podcast, featuring an introduction by the authors, a foreword by Jonny Sun, behind-the-scenes commentary, and original illustrations."
När jag köpte den här boken trodde jag att det var en till roman som utspelade sig i Night Vale. Men när jag plockade upp den och kollade närmare insåg jag att det är avsnitt i textform med lite kommentarerna från skaparna och en del av skådespelarna som varit med i podden. Det var absolut inget som gjorde den till en besvikelse, jag blev bara lite förvånad först.
Men det gör det svårt att beskriva vad den handlar om eftersom det är flera olika avsnitt. Det jag kan säga är att det lika galet, underligt och underhållande som det brukar vara med Night Vale. Det är hundparker dit man inte får ta hundar, underliga främlingar som bara står och andas och stirrar på en, en liten söt beagle som kanske inte är så oskyldig som den verkar och så vidare.
Nu ska jag försöka få någon ordning på de andra titlarna som finns och se vilken bok det är jag borde skaffa härnäst!