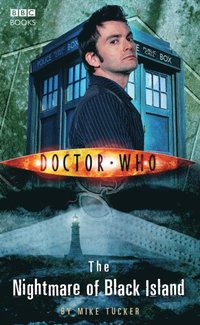 Originaltitel: The Nightmare of Black Island
Sidor: 250 (Pocket)
"On a lonely stretch of Welsh coastline a fisherman is killed by a hideous creature from beneath the waves. When the Doctor and Rose arrive, they discover a village where the children are plagued by nightmares, and the nights are ruled by monsters.
The villagers suspect that ancient industrialist Nathanial Morton is to blame, but the Doctor has suspicions of his own. Who are the ancient figures that sleep in the old priory? What are the monsters that prowl the woods after sunset? What is the light that glows in the disused lighthouse on Black Island? As the children's nightmares get worse, The Doctor and Rose discover an alien plot to resurrect an ancient evil..."
Den här boken är bara mysig och trygg läsning för mig. Jag älskar Doctor Who, speciellt säsongerna med David Tennant. Så när jag läser berättelsen om Black Island kan jag höra hans röst säga replikerna och se honom göra allt som beskrivs. Det gör verkligen hela läsupplevelsen speciell!
Berättelsen är lite lagom spännande, har några roliga ögonblick och så klart några ondskefulla utomjordingar som vill förstöra jorden. Det är fantastiskt så många utomjordiska raser som vill utplåna oss i den här serien! Tur att The Doctor och hans kompanjoner håller koll.
Det är egentligen inte fantastisk litteratur, det är bara glädje för mitt nördhjärta.