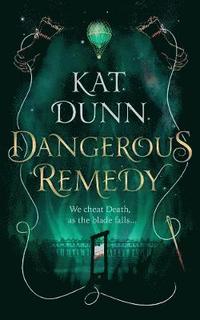 Originaltitel: Dangerous Remedy
Sidor: 432 (Inbunden)
Serie: Battalion of the Dead (del 1)
"Camille, a revolutionary's daughter, leads a band of outcasts - a runaway girl, a deserter, an aristocrat in hiding. As the Battalion des Morts they cheat death, saving those about to meet a bloody end at the blade of Madame La Guillotine.
But their latest rescue is not what she seems. The girl's no aristocrat, but her dark and disturbing powers means both the Royalists and the Revolutionaries want her. But who and what is she? In a fast and furious story full of the glamour and excesses, intrigue and deception of these dangerous days, no one can be trusted, everyone is to be feared. As Camille learns the truth, she's forced to choose between loyalty to those she loves and the future."
Det här var en bok jag hoppade in i utan att ha någon aning alls om vad jag skulle förvänta mig! Jennifer rensade sina hyllor och sa att jag nog kunde tycka om den, och den är löjligt snygg, så jag räddade den.
Det är jag glad att jag gjorde. Dangerous Remedy är ett spännande, historiskt äventyr med många unika karaktärer. Den utspelar sig under franska revolutionen men med några egna twister som du inte hittar i historieböckerna. Gänget vi följer är experter på att rädda folk från olika fängelser, men ett uppdrag de tar på sig visar sig vara något helt annat än vad de väntat sig.
Här finns äventyr, vänskap, kärlek, sorg och faror. Det kanske inte är en bok jag kommer tänka på i all evighet men när jag läste den var den helt rätt. En annan värld att sjunka in i och karaktärer att ge sig ut på uppdrag med.
Det finns två delar till i serien, jag har inte riktigt bestämt mig för om jag ska skaffa dem eller om det räcker med att ha läst den här.