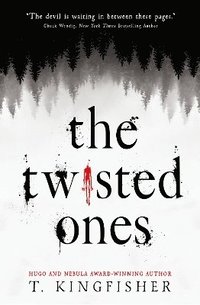 Originaltitel: The Twisted Ones
Sidor: 416 (Häftad)
"When Mouse's dad asks her to clean out her dead grandmother's house, she says yes. After all, how bad could it be? Answer: pretty bad. Grandma was a hoarder, and her house is stuffed with useless rubbish. That would be horrific enough, but there's more.
Mouse stumbles across her step-grandfather's journal, which at first seems to be filled with nonsensical rants... until Mouse encounters some of the terrifying things he described for herself. Alone in the woods with her dog, Mouse finds herself face to face with a series of impossible terrors... because sometimes the things that go bump in the night are real, and they're looking for you. And if she doesn't face them head on, she might not survive to tell the tale."
The Twisted Ones är en berättelse om underliga och skrämmande saker i skogen, om en dagbok där det är svårt att veta vad man ska ta på allvar, en kulle som finns där ibland och ibland inte och mitt i allt en tjej som bara ville göra sin pappa en tjänst.
Jag gillade verkligen den här boken. Den är spännande och samtidigt förvånansvärt rolig! Jag gillar Mouse, hon har en härlig humor och älskar verkligen sin hund. Jag känner igen mig i så många av hennes reaktioner när det gäller just hundägandet.
Sedan är jag svag för böcker som har underliga dagböcker eller manuskript i sig. Det drar alltid in mig lite extra. Jag gillar även de fina relationerna som Mouse utvecklar med sina grannar. De blir ett härligt litet gäng som hjälper varandra så gott det går.
Det var ett väldigt positivt första möte med T. Kingfisher! Jag kommer definitivt kolla upp fler böcker av författaren.