Den här taggen hittade jag hos
Camilla
och den var lite annorlunda så jag tänkte att den kunde vara rolig att göra!
1. January (GARNET): Associated with warding off negative forces and dark energies
- Name a book with the darkest/evilest character you can think of.
Så fort jag får sådana här frågor hoppar Dolores Umbridge från Harry Potter-böckerna upp i huvudet. Hon är verkligen hemsk.
2. February (AMETHYST): Purple is associated with royalty
- Name a book with regal qualities... You can base this off of characters of choose the King of all books.
Rött, vitt & kungligt blått av Casey McQuiston passar väl perfekt här då ena huvudkaraktären är en prins!
3. March (AQUAMARINE): Washed out - Name a 'wishy washy' character, a character who is not strong or a follower.
Hm. Det här var svårt. Den enda jag får upp i tankarna är Bella från Twilight. Men det var ju flera år sedan jag läste böckerna/såg filmerna så detaljerna är inte direkt klara.
4. April (DIAMOND): A diamond in the rough - Name a book that you loved but is not well known.
Järnskallen av Nils Håkanson. Den är väldigt annorlunda och bra! Jag har däremot inte sett så många läsa den.
5. May (EMERALD): Said to balance energy - Name two characters who balance each other well.
Tengel och Silje från Sagan om Isfolket var de första jag kom att tänka på så jag kör på dem. Det känns som de i sin relation balanserar den andra väldigt bra.
6. June (PEARL): Associated with loyalty - Name a character who is loyal to the end.
Det känns som att Odd Thomas från Dean Koontz böcker passar in bra här!
7. July (RUBY): Blood red - Name a book that made your blood boil, one that made you angry.
Den senaste som gjorde mig riktigt arg när jag läste var väl En hunds bästa vän. En karaktär i den fick det att koka i mig!
8. August (PERIDOT): Pale green (it pales in comparison to other gems)
- Name a supporting character who you like better than the main character.
Det här känns som ett ganska klassiskt svar men Sam i Sagan om Ringen är verkligen bra. Här kan det hända att mina känslor är påverkade av filmversionen. Han skulle även kunna passa in på frågan om lojala karaktärer.
9. September (SAPPHIRE): Blue like the ocean which is calming - Name a book that had a calming affect on you.
En lugnande effekt...Det var lite klurigt men jag tar nog en bok jag lyssnade på som ljudbok. Over the Top av Jonathan Van Ness. Författaren är en av programledarna för Fab 5 på Netflix. Jag har varit besatt av serien den senaste månaden. Jonathans bok tar upp tunga ämnen men samtidigt är den lugnande på grund av personligheten och peppen som Jonathan tar med sig i inläsningen. Det är inte bara mörker, det finns mycket hopp och glädje också.
10. October (OPAL): Iridescent
- Name an iridescent book, this can be a book with a beautiful cover (Shiny? Lots of colour?) or you can base it off of a character (Quirky? Colourful?).
Jag väljer då att ta ett färgglatt omslag. Det blir Meddling Kids av Edgar Cantero.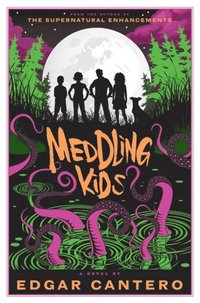 11. November (TOPAZ): Associated with resilience -
Name a books with a character who rises to the top in a time of adversity.
Jane Hawk i Tystnaden och Makten av Dean Koontz. Hon är en riktig djäkla tuff karaktär. Det finns fler böcker i serien om henne och jag hoppas de kommer översättas till svenska.
12. December (BLUE ZIRCON): Associated with friendship - Name a book with a friendship you want to be apart of.
Ooooh får jag vara vän med Eragon och Saphira? Mest Saphira faktiskt. Tänk att ha en drakkompis.