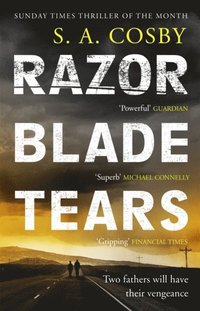 Originaltitel: Razorblade Tears
Sidor: 336 (Häftad)
"Ike Randolph left jail fifteen years ago, with not so much as a speeding ticket since. But a Black man with cops at the door knows to be afraid. Ike is devastated to learn his son Isiah has been murdered, along with Isiah's white husband, Derek. Though he never fully accepted his son, Ike is broken by his death. Derek's father Buddy Lee was as ashamed of Derek being gay as Derek was of his father's criminal past. But Buddy Lee - with seedy contacts deep in the underworld - needs to know who killed his only child. Desperate to do better by them in death than they did in life, two hardened ex-cons must confront their own prejudices about their sons - and each other - as they rain down vengeance upon those who hurt their boys."
Den här boken alltså, den tog med mig på en otrolig resa. En otroligt rå, brutal och mörk resa. Och lyckades samtidigt bli en ny favorit hos mig.
Det är väldigt känslosamt att läsa om Ike och Buddy Lee som inte kunnat acceptera sina söner medan de var i livet, och all ånger och skuld de känner när sönerna blivit mördade. Vägen till hämnd är lång och farlig. De får små pusselbitar om vad som kan lett fram till morden och när folk upptäcker att de rotar i det ökar riskerna.
Trots sin råhet sitter jag faktiskt med tårar i ögonen mot slutet. Våra två huvudkaraktärer utvecklas mycket under berättelsens gång, de blir mer öppna och accepterande mot andra och mot varandra. Buddy Lee får upp ögonen för hur annorlunda livet kan vara för Ike som är svart till exempel, de lär sig väldigt mycket.
Jag tyckte den var fantastisk.