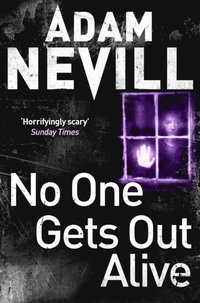 Originaltitel: No One Gets Out Alive
Sidor: 629 (Häftad)
"Cash-strapped, working for agencies and living in shared accommodation, Stephanie Booth feels she can fall no further. So when she takes a new room at the right price, she believes her luck has finally turned. But 82 Edgware Road is not what it appears to be. It's not only the eerie atmosphere of the vast, neglected house, or the disturbing attitude of her new landlord, Knacker McGuire, that makes her uneasy - it's the whispers behind the fireplace, the scratching beneath floors, the footsteps in the dark, and the young women weeping in neighbouring rooms. And when Knacker's cousin Fergal arrives, the danger goes vertical. But this is merely a beginning, a gateway to horrors beyond Stephanie's worst nightmares. And in a house where no one listens to the screams, will she ever get out alive?"
No One Gets Out Alive är en väldigt obehaglig bok, på många sätt.
Det börjar hända saker direkt på första sidan och sen är det bara att ta ett djupt andetag och hänga med i den här mörka berättelsen. Här finns både övernaturlig skräck och mänsklig skräck. Jag kommer på mig själv med att hålla andan vid flera tillfällen.
Har man svårt att läsa om kvinnor som råkar illa ut ska man inte plocka upp No Ones Gets Out Alive, det finns väldigt mycket man kan bli triggad av. De flesta manliga karaktärerna är vidriga och inga man vill träffa i verkliga livet.
Men jag satt som klistrad vid sidorna. Det är en tjock bok men den tog inte så lång tid att läsa ändå. Jag var väldigt investerad i hur det skulle gå för huvudkaraktären och hade svårt att släppa taget om den. Det finns en filmversion på Netflix, jag har inte sett den än men planerar att göra det!