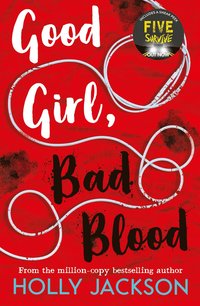 Originaltitel: Good Girl, Bad Blood
Sidor: 415 (Häftad)
Serie: A Good Girl's Guide to Murder (del 2)
"Pip Fitz-Amobi is not a detective anymore. With the help of Ravi Singh, she released a true-crime podcast about the murder case they solved together last year. The podcast has gone viral, yet Pip insists her investigating days are behind her. But she will have to break that promise when someone she knows goes missing. Jamie Reynolds has disappeared but the police won't do anything about it. And if they won't look for Jamie then Pip will, uncovering more of her town's dark secrets along the way& and this time EVERYONE is listening. But will she find him before it's too late?"
För några månader sedan läste jag första delen i A Good Girl´s Guide to Murder-serien. Jag tyckte riktigt mycket om den och är glad att det inte dröjde alltför länge innan jag plockade upp andra delen!
Good Girl, Bad Blood är dessutom ännu bättre! Det nya mysteriet som Pip dras in i är otroligt spännande och det blir faktiskt ganska mörkt mot slutet. Pip går igenom mycket och det påverkar henne på sätt hon inte är beredd på.
Jag kunde verkligen inte släppa den här boken. Det är tur att jag var ledig när jag började för jag sträckläste den med pauser enbart för nödvändigheter som mat och att ta hand om Nitro. Annars var den fastklistrad i mina händer.
Nu måste jag genast skaffa del tre så jag får se hur allt det här ska sluta!