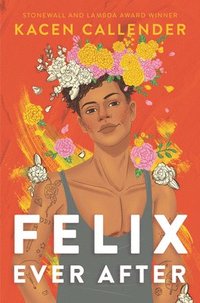 Originaltitel: Felix Ever After
Sidor: 368 (Inbunden)
"Felix Love has never been in love - and, yes, he's painfully aware of the irony. He desperately wants to know what it's like and why it seems so easy for everyone but him to find someone. What's worse is that, even though he is proud of his identity, Felix also secretly fears that he's one marginalization too many - Black, queer, and transgender - to ever get his own happily-ever-after.
When an anonymous student begins sending him transphobic messages - after publicly posting Felix's deadname alongside images of him before he transitioned - Felix comes up with a plan for revenge. What he didn't count on: his catfish scenario landing him in a quasi-love triangle....




But as he navigates his complicated feelings, Felix begins a journey of questioning and self-discovery that helps redefine his most important relationship: how he feels about himself."
Det här är en bok jag sett lite överallt på booktube och bookstagram. Det faktum att den handlar om ämnen jag inte läst så mycket om gjorde mig väldigt intresserad och jag blev glad när biblioteket accepterade mitt inköpsförslag på den.
Alla som jag sett prata om den har älskat den och jag får helt enkelt ansluta mig till hyllningskören. Det är en fantastisk bok. Den innehåller lite av allt; vänskap, kärlek, hat, sorg, ensamhet, utanförskap och hur man gör för att hitta sitt rätta jag. Jag har aldrig varit i situationen att ifrågasätta min könsidentitet och lär mig därför väldigt mycket genom Felix Ever After. Jag kan inte fullt ut sätta mig in i huvudkaraktärens känslor och upplevelser men jag får hjälp att förstå genom Felix ögon.
Att kunna lära sig och samtidigt få njuta av en bra berättelse, det är väl något av det mest otroliga med böcker. Den här läsupplevelsen har varit ett perfekt exempel på det. Jag är glad att den här boken finns, både för att fler ska få förståelse för vad transpersoner går igenom och för att de som faktiskt går igenom det ska kunna plocka upp en bok och känna att de inte är ensamma.