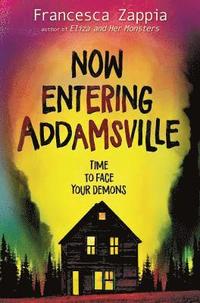 Originaltitel: Now Entering Addamsville
Sidor: 432 (Inbunden)
Ålder: Unga vuxna
"When Zora Novak is framed for a crime she didn't commit, she must track down the true culprit and clear her name before it's too late. But in a small town obsessed with ghosts, getting people to believe the truth might prove to be impossible.
When someone burns down the home of the school janitor and he dies in the blaze, everyone in Addamsville, Indiana, points a finger at Zora. Never mind that Zora has been on the straight and narrow since her father was thrown in jail. With everyone looking for evidence against her, her only choice is to uncover the identity of the real killer. There's one big problem--Zora has no leads. No one does.
Addamsville has a history of tragedy, and thirty years ago a similar string of fires left several townspeople dead. The arsonist was never caught. Now, Zora must team up with her cousin Artemis--an annoying self-proclaimed Addamsville historian--to clear her name. But with a popular ghost-hunting television show riling up the townspeople, almost no support from her family and friends, and rumors spinning out of control, things aren't looking good. Zora will have to read between the lines of Addamsville's ghost stories before she becomes one herself."
Now Entering Addamsville är en lättläst och underhållande berättelse! Den tar upp mycket om utanförskap, fördomar, vänskap och familj. Samtidigt som den innehåller lite monster och spöken. Plus flera starka kvinnliga karaktärer. En perfekt kombination!
Det är en ungdomsbok och jag har brukar vara lite skeptisk till dem för att jag lätt blir less på allt kärleksdrama som kan finnas. Men Zappias böcker har fungerat väldigt bra. Jag har nu läst tre stycken och alla har varit riktigt läsvärda.
Zora som huvudkaraktär är lätt att tycka om även om hon agerar utan att tänka ibland. Hon är hård på ytan men bryr sig egentligen väldigt mycket om sin stad och invånarna i den. Även om vissa av dem verkligen inte förtjänar det. Vissa vill man bara slänga något hårt på. Om och om igen.
Jag gillar den övernaturliga delen och spänningen det skapar. Zora och hennes familj ger mig nästan lite Supernatural-vibbar. Det är några frågor obesvarade när man kommer till slutet och det känns som att det skulle kunna komma en fortsättning. Om det gör det så kommer jag absolut att läsa den!