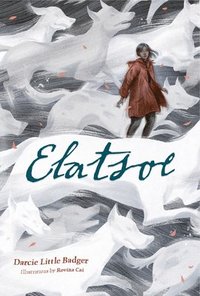 Originaltitel: Elatsoe
Sidor: 368 (Inbunden)
Illustratör: Rovina Cai
"Imagine an America very similar to our own. It's got homework, best friends, and pistachio ice cream. There are some differences. This America been shaped dramatically by the magic, monsters, knowledge, and legends of its peoples, those Indigenous and those not.
Some of these forces are charmingly everyday, like the ability to make an orb of light appear or travel across the world through rings of fungi. But other forces are less charming and should never see the light of day.
Elatsoe lives in this slightly stranger America. She can raise the ghosts of dead animals, a skill passed down through generations of her Lipan Apache family. Her beloved cousin has just been murdered, in a town that wants no prying eyes. But she is going to do more than pry. The picture-perfect facade of Willowbee masks gruesome secrets, and she will rely on her wits, skills, and friends to tear off the mask and protect her family."
Det här är en otroligt bra och unik bok! Författaren hör till Amerikas ursprungsbefolkning. Hon är en del av Lipan Alpache Tribe och dit hör även hennes huvudkaraktär. Jag kan inte komma på att jag har läst någon bok från det perspektivet tidigare och det är verkligen intressant.
Jag dras snabbt in i den här spännande berättelsen. Delvis är det ett mordmysterium, delvis en berättelse om ett Amerika där magi och monster existerar, delvis lite av en spökhistoria. Elatsoe, huvudkaraktären, kan kalla tillbaka döda djurs spöken till den här världen. Hennes bästa vän är spöket efter hennes hund, Kirby. Det här värmer ju mitt hjärta så otroligt mycket. Jag kunde inte låta bli att sakna Aramis extra mycket. Människors spöken däremot, de ska man inte kalla tillbaka. Oavsett hur snälla de var i livet så kommer de tillbaka på ett helt annat sätt.
Jag blir fascinerad av världen som författaren bygger upp. Det flyter på så bra att den känns verklig under läsningen. Ett extra stort plus som jag verkligen uppskattar är att det inte finns några kärleksbekymmer i huvudkaraktärens liv. Hon är inte intresserad av förhållanden och är asexuell. Istället är det familj och vänskap som får stå i centrum. Det känns uppfriskande.
Det här är ett sådant tillfället då jag är extra glad över att en bok dök upp i mitt liv. Den passade mig perfekt och jag kommer att hålla tummarna för att Darcie Little Badger skriver fler böcker.