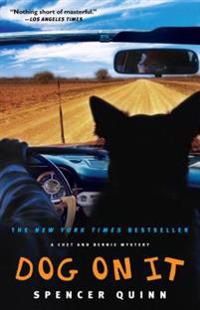 Sidor: 305 (häftad)
"Chet, the wise and lovable canine narrator of Dog on it, and Bernie, a down-on-his-luck private investigator, are quick to take a new case involving a frantic mother searching for her teenage daughter. This well-behaved and gifted student may or may not have been kidnapped, but she has definitely gotten mixed up with some very unsavory characters.
With Chet's highly trained nose leading the way, their hunt for clues takes them into the desert to biker bars and other exotic locales - until the bad guy try to turn the tables and the resourceful duo lands in the paws of peril."
Åh, jag älskar den här boken! Jag är ju en stor hundmänniska, mina hundar är mina hjärtan som knallar omkring utanför min kropp. Så att läsa en bok som berättas ur hundens perspektiv är helt underbart! Chet är en underbar karaktär och det är omöjligt att inte bli förälskad i honom, även husse Bernie är riktigt lätt att tycka om.
Och det är så charmigt, för samtidigt som Chet är smart så är han också så härligt mycket hund. Han kan vara så intelligent vissa gånger för att sen fångas av något i stunden (en lukt, en katt, vad som helst!) och bli nästan som en valp igen. Och det är något jag verkligen kan känna igen från mina egna odågor.
Det är roligt och lite lagom spännande och till och med lite snyftvarning (eller så är det bara jag som är löjligt känslig) på ett ställe. En alldeles perfekt bok att läsa och försvinna i.
Nu vill jag verkligen läsa resten av serien!