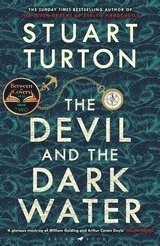 Originaltitel: The Devil and the Dark Water
Sidor: 552 (Häftad)
"It's 1634 and Samuel Pipps, the world's greatest detective, is being transported to Amsterdam to be tried for a crime he may, or may not, have committed.
But no sooner is the Saardam out to sea than devilry begins to blight the voyage. Strange symbols appear on the sails. Livestock are slaughtered. Ominous whispers travel throughout the crowded decks.
And then comes the first murder.
With Pipps imprisoned in the depths of the ship, can his loyal bodyguard, Arent Hayes, solve the mystery before the ship descends into anarchy?"
Jag var lite nervös när det var dags att plocka upp The Devil and the Dark Water, kunde den verkligen vara lika bra som författarens tidigare bok, The Seven Deaths of Evelyn Hardcastle?
Jag hade inte behövt oroa mig, den här boken är otroligt bra! Det är klurigt, spännande, lite obehagligt och utspelar sig på ett fartyg ute till havs, vilket betyder att karaktärerna inte kan undkomma vad det än är som hemsöker skeppet.
Det är en tegelsten men eftersom jag kompisläste den med Elza delade vi upp den och läste ungefär 140 sidor varje vecka. De där sidorna bara flög förbi när jag satt med den och ofta slutade det superspännande så det kliade i fingrarna efter att få läsa vidare.
Sedan har vi karaktärerna! De är väldigt intressanta. Pipps och Arent blir jag genast nyfiken på och jag älskar att följa med i hur (mest Arent) försöker lösa gåtan med vad som händer ombord. Det finns dessutom flera kvinnliga karaktärer som jag älskar att följa. De är starka och smarta i en tid där de måste dölja det för att passa in. Men det stoppar dem inte från att använda sina egenskaper. Jag hade gärna läst fler böcker med samma karaktärer.
Jag hade absolut ingen aning om hur det skulle sluta. Jag och Elza diskuterade varje vecka om det kunde röra sig om en demon eller om det var någon människa som låg bakom allt men ingen av oss visste vad vi skulle tro och när slutet kom blev vi båda lika förvånade!
Nu ska det bli riktigt intressant att se vad Stuart Turton hittar på härnäst.