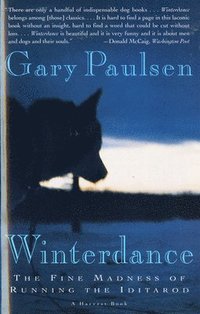 Originaltitel: Winterdance: The Fine Madness of Running the Iditarod
Sidor: 256 (Häftad)
"In the tradition of Jack London, Gary Paulsen presents an unforgettable account of his participation in the 1,100-mile-long dogsled race called the "Iditarod". For 17 days, Paulsen and his team of dogs endured blinding wind, snowstorms, moose attacks, and more, yet relentlessly pushed on to the end."
Det här var en alldeles perfekt bok för mig. Tusen tack till Scylla som överraskade mig med den i julas!
Författaren, Gary Paulsen, bestämde sig för att tävla i Iditarod, en slädshundstävling som går genom Alaska. Det är en riktig tuff tävling som kräver mycket av både förare och hundar. Vi kan väl säga att Gary inte riktigt visste vad han gav sig in på.
Han beskriver sina förberedelser, införskaffandet av nya hundar, träningsåken, alla misstag och framgångar han har. Något jag faktiskt inte väntade mig var humorn han beskriver allt med, det går åt helvete flera gånger och han skriver på ett sätt som gör det omöjligt att hålla tillbaka skrattet.
Samtidigt lyckas han förmedla precis hur hård tävlingen är. Jag tycker det är fascinerande att läsa om och är grymt imponerad över alla människor och hundar som ger sig in i det. Nu för tiden tror jag de har det under lite mer kontrollerade former med hur mycket föraren behöver vila osv. Men när författaren körde på 80-talet verkar det ha varit upp till var och en. Han själv sov så lite att han började hallucinera.
Jag kan med säkerhet säga att slädhundstävlingar inte är något för mig men det var väldigt intressant att få vara med om en av de tuffaste i världen genom Winterdance!