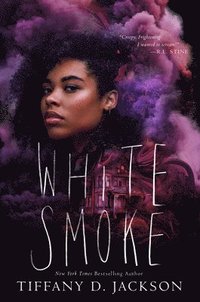 Originaltitel: White Smoke
Sidor: 384 (Inbunden)
"Marigold is running from ghosts. The phantoms of her old life keep haunting her, but a move with her newly blended family from their small California beach town to the embattled Midwestern city of Cedarville might be the fresh start she needs. Her mom has accepted a new job with the Sterling Foundation that comes with a free house, one that Mari now has to share with her bratty ten-year-old stepsister, Piper.
The renovated picture-perfect home on Maple Street, sitting between dilapidated houses, surrounded by wary neighbors has its...secrets. That's only half the problem: household items vanish, doors open on their own, lights turn off, shadows walk past rooms, voices can be heard in the walls, and there's a foul smell seeping through the vents only Mari seems to notice. Worse: Piper keeps talking about a friend who wants Mari gone. But "running from ghosts" is just a metaphor, right? As the house closes in, Mari learns that the danger isn't limited to Maple Street. Cedarville has its secrets, too. And secrets always find their way through the cracks."
Jisses vilken bok! Tiffany D. Jackson är nog på väg att bli en ny favoritförfattare.
White Smoke är hennes första skräckbok och hon gör det riktigt bra! Det obehagliga kryper in under huden på mig och får pulsen att rusa. Jag läste en ganska stor del sent en kväll och det tog ett tag innan hjärtat slutade slå hårt när jag hade lagt undan boken.
En del av situationerna är verkligen de klassiska spökhusmomenten, dåliga lukter, saker som försvinner, knarrade golvplankor. Men hon tar också våra moderna vardagliga saker som mobiltelefoner och datorer för att skrämma sina karaktärer. Jag har aldrig tidigare blivit så stressad av påminnelser på mobilen.
Familjerelationerna är verkligen komplicerade, precis som det kan vara när man slår ihop två familjer till en. Jag tycker författaren lyckas fånga det på ett bra och trovärdigt sätt. Huvudkaraktären är dessutom inte helt lätt att gilla till 100%, hon kan vara ganska blind för andras problem och mest se sina egna. Samtidigt går det att förstå varför hon beter sig så.
Jag tyckte jättemycket om den och hoppas att Tiffany D Jackson skriver mer skräck i framtiden!