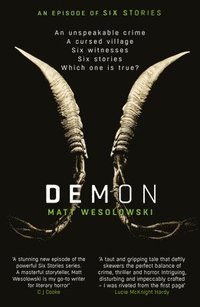 Originaltitel: Demon
Sidor: 320 (Häftad)
Serie: Six Stories (del 6)
" In 1995, the picture-perfect village of Ussalthwaite was the site of one of the most heinous crimes imaginable, in a case that shocked the world. Twelve-year-old Sidney Parsons was savagely murdered by two boys his own age. No reason was ever given for this terrible crime, and the 'Demonic Duo' who killed him were imprisoned until their release in 2002, when they were given new identities and lifetime anonymity.
Elusive online journalist Scott King investigates the lead-up and aftermath of the killing, uncovering dark stories of demonic possession, and encountering a village torn apart by this unspeakable act. And, as episodes of his Six Stories podcast begin to air, and King himself becomes a target of media scrutiny and the public's ire, it becomes clear that whatever drove those two boys to kill is still there, lurking, and the campaign of horror has just begun..."
Demon är sjätte delen i en av mina favoritserier, Six Stories. Jag älskar verkligen upplägget att böckerna är skrivna som en true crime-podcast.
I den här delen får vi följa Scott King när han intervjuar sex olika personer som på något sätt har koppling till en händelse där två barn mördade ett annat barn. Både de två mördarna och offret var i 12-års åldern. Man får lära känna alla inblandade, se deras liv utifrån andras perspektiv, ta del av deras uppväxt och de underliga saker som börjar hända runtomkring dem. Något som ofta finns med i böckerna är en hårfin gräns mellan det verkliga och det övernaturliga, man vet aldrig riktigt på vilken sida man står på.
I Demon tar författaren upp frågor angående skuld och när har man straffats nog? Kan man få en andra chans efter att ha begått en hemsk handling som barn? Är det rätt att barnen, när de släpps ut från fängelset som vuxna, får livslång anonymitet? Och kan man känna sympati för deras svåra uppväxt och samtidigt hata dem för brottet de begått?
Det är tunga ämnen som vävs in i en spännande berättelse och jag ser redan fram emot nästa del i serien!