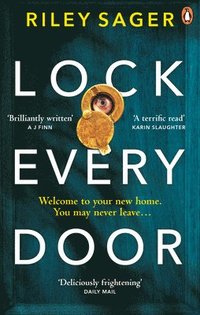 Originaltitel: Lock Every Door
Sidor: 368 (Häftad)
"No visitors. No nights spent away from the apartment. No disturbing the other residents.
These are the only rules for Jules Larson's new job as apartment sitter for an elusive resident of the Bartholomew, one of Manhattan's most high-profile private buildings and home to the rich and famous. Recently heartbroken and practically homeless, Jules readily accepts the terms, ready to leave her past life behind. Out of place among the extremely wealthy, Jules finds herself pulled toward other apartment sitter Ingrid.
But Ingrid confides that the Bartholomew is not what it seems and the dark history hidden beneath its gleaming facade is starting to frighten her. Jules brushes it off as a harmless ghost story - but the next day, her new friend has vanished. And then Jules discovers that Ingrid is not the first temporary resident to go missing...
Welcome to the Bartholomew...You may never leave."
Min andra bok av Sager är väldigt olik den första! Den här är inte lika krypande läskig utan mer mystisk och spännande.
Jag dras in i berättelsen direkt och tycker om Jules. Hon har det verkligen inte har det lätt när berättelsen börjar. Hennes pojkvän har varit otrogen och deras lägenhet var skriven på honom så hon har flyttat ut. Dessutom har hon förlorat jobbet. Så det är lätt att förstå varför hon nappar på erbjudandet om vara lägenhetsvakt även om vissa röda flaggor är där redan från början.
Ibland reagerar jag på att hon inte beter sig riktigt logiskt och det finns ett mysterium i boken som inte får någon lösning, det irriterar mig. Men för det mesta är det bara väldigt spännande och sidorna flyger fram. Jag vill få reda på hur allt hänger ihop!
Slutet tappar mig lite när jag tror att det är på väg åt ett håll, det räddas till viss del men inte fullt ut. Av de två Riley Sager-böcker jag läst hittills är Home Before Dark min favorit. Lock Every Door når inte upp till samma nivå men det är ändå en bok som hållit mig nyfiken hela vägen.