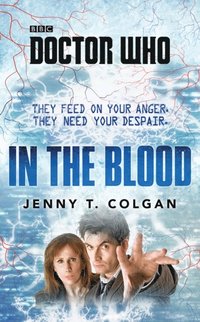 Originaltitel: Doctor Who: In the Blood
Sidor: 336 (Inbunden)
"All over the world, people are venting their fury at one another on social media. Dropping their friends, giving vent to their hatred, and everywhere behaving with incredible cruelty. Even Donna has found that her friend Hettie, with her seemingly perfect life and fancy house, has unfriended her. And now, all over the world, internet trolls are dying...As more and more people give in to this wave of bitterness and aggression, it's clear this is no simple case of modern living. This is unkindness as a plague. From the streets of London to the web cafes of South Korea and the deepest darkest forests of Rio, can the Doctor and Donna find the cause of this unhappiness before it's too late?"
Det tog ganska lång tid innan min hjärna kopplade att Jenny T. Colgan är samma person som skriver böckerna om
Det lilla bageriet
bland annat. Jag har läst en av hennes feelgoodböcker, det var ingen hit för mig. Men Doctor Who är Doctor Who och när den här boken blev vald till junis tbr-hög blev jag ändå glad.
Den är skriven med David Tennant och Catherine Tate som de som spelar Doktorn och hans kompanjon. Det passar mig perfekt då Tennant är min favorit och jag tycker även mycket om Tates karaktär Donna. De har en härlig kemi och författaren har fångat det bra.
Jag hör deras röster i huvudet när jag läser och det ger hela upplevelsen en extra mysig känsla. Själva ämnet känns ständigt aktuellt då det är så lätt att sitta bakom en skärm och spy ur sig ilska och hat mot främlingar. I boken är det något som används mot mänskligheten och leder till att folk dör.
Det är inget mästerverk, men det är ett underhållande äventyr med några favoritkaraktärer så jag är väldigt glad att den äntligen blev läst!