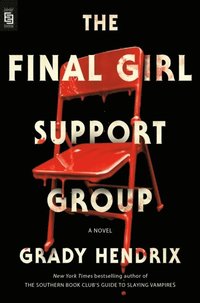 Originaltitel: The Final Girl Support Group
Sidor: 339 (Häftad)
"In horror movies, the final girl is the one who's left standing when the credits roll. The one who fought back, defeated the killer, and avenged her friends. The one who emerges bloodied but victorious. But after the sirens fade and the audience moves on, what happens to her?
Lynnette Tarkington is a real-life final girl who survived a massacre twenty-two years ago, and it has defined every day of her life since. And she's not alone. For more than a decade she's been meeting with five other actual final girls and their therapist in a support group for those who survived the unthinkable, putting their lives back together, piece by piece. That is until one of the women misses a meeting and Lynnette's worst fears are realized-someone knows about the group and is determined to take their lives apart again, piece by piece.




But the thing about these final girls is that they have each other now, and no matter how bad the odds, how dark the night, how sharp the knife, they will never, ever give up."
The Final Girl Support Group är en riktig bladvändare! Här händer det saker hela tiden och det finns knappt tid att hämta andan. Jag sitter på nålar och har väldigt svårt att lägga undan boken, jag vill bara läsa och läsa samtidigt som jag vet att det kommer bli tomt när den är slut.
Berättelsen följer Lynnette, hon är en "final girl", en tjej som överlevt en situation där flera andra blivit mördare. Ni vet, det klassiska i skräckfilmer, till exempel en grupp ungdomar på sommarläger, en galen mördare är lös och bara en av ungdomarna tar sig levande därifrån. Det är en final girl. Hon och några andra final girls träffas i gruppterapi för att prata och bearbeta sina trauman, men så blir en av dem mördad och Lynnette är övertygad om att någon är ute efter dem allihopa.
Hendrix vet verkligen hur man håller fast läsaren i ett stenhårt grepp. Karaktärerna känns levande och trovärdiga och själva mysteriet innehåller flera twister och vändningar som jag inte kunde förutse. Det blev aldrig tråkigt.
Det här är den tredje boken jag har läst från författaren och det är min nya favorit.