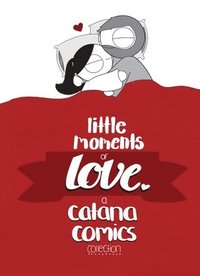 Originaltitel: Little Moments of Love
Sidor: 148 (Inbunden)
"What began as stray doodles on scraps of paper became an internet sensation when Catana Chetwynd's boyfriend shared her drawings online. Now, Catana Comics touches millions of readers with its sweet, relatable humor. Little Moments of Love collects just that - the little moments that are the best parts of being with the person you love."
Little Moments of Love var en av årets julklappsböcker och den lästes under en av mina lediga dagar. Samtidigt som jag knackade på sambons axel varannan minut för att fnissande visa honom någon sida jag tycket var passande eller gullig.
Boken består av små seriestrippar och alla handlar om författaren och hennes partner. Små glimtar ut deras förhållande som är roliga, söta och charmiga. Som sagt kände jag igen mig i en hel del och det var extra mysigt att ha sambon i närheten och dela upplevelsen med honom. Jag har märkt upp flera ställen för att kunna gå tillbaka och titta på några sidor lite extra. Jag uppskattar verkligen den här typen av böcker, det finns så mycket fint i dem.