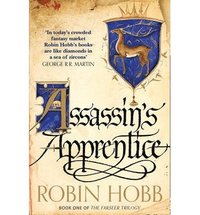 Originaltitel: Assassin´s Apprentice
Sidor: 392 (Häftad)
Serie: The Farseer Trilogy (del 1)
"The kingdom of the Six Duchies is on the brink of civil war when news breaks that the crown prince has fathered a bastard son and is shamed into abdication. The child's name is Fitz, and he is despised. Raised in the castle stables, only the company of the king's fool, the ragged children of the lower city, and his unusual affinity with animals provide Fitz with any comfort. To be useful to the crown, Fitz is trained as an assassin; and to use the traditional magic of the Farseer family. But his tutor, allied to another political faction, is determined to discredit, even kill him. Fitz must survive: for he may be destined to save the kingdom."
Assassin´s Apprentice är den första boken jag har läst av Robin Hobb. Det har varit en extra trevlig upplevelse eftersom jag har läst den tillsammans med ett gäng på Instagram. Vi har läst några sidor varje vecka i januari och sen diskuterat det vi läst varje söndag. Det har varit superkul! Nu i februari fortsätter vi med del två i serien.
Jag var lite orolig i början eftersom jag läste den på engelska. Som ganska ovan fantasyläsare var jag rädd att det skulle bli för krångligt språk och att jag inte skulle hänga med ordentligt. Men det har verkligen inte varit några problem.
Det är en ganska långsam berättelse, men inte på ett dåligt sätt. Världen och karaktärerna byggs hela tiden upp samtidigt som man får lära sig mer om den magi som vissa kan använda. Fitz, huvudkaraktären, är lätt att tycka om och känna med. Han har ett speciellt band med djur som jag både avundas och är lite lättad att jag inte har.
Jag är faktiskt riktigt engagerad i vad som händer och ser fram emot att läsa vidare om Fitz och se vilka äventyr som väntar i bok två!