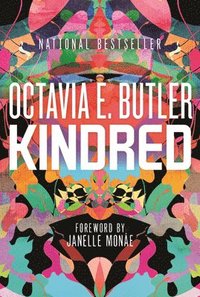 Originaltitel: Kindred
Sidor: 287 (Häftad)
"Dana, a modern black woman, is celebrating her twenty-sixth birthday with her new husband when she is snatched abruptly from her home in California and transported to the antebellum South.
Rufus, the white son of a plantation owner, is drowning and Dana had been summoned to save him. Dana is drawn back repeatedly through time to the slave quarters, and each time the stays grow longer, more arduous, and more dangerous until it is uncertain whether or not Dana's life will end, long before it has a chance to begin."
Kindred
är precis så fantastiskt bra som alla sagt att den ska vara. Den har ett driv som gör att jag hela tiden vill läsa vidare. Och trots att den är otroligt tung kan jag inte lägga den ifrån mig längre stunder. Jag läste ut den dagen efter att jag påbörjade den.
Med det sagt fanns det ögonblick då jag var tvungen att stänga den några minuter och andas för att kunna fortsätta i det hemska eller obehagliga som hände på sidorna just då. De vita plantageägarna är inga trevliga människor och det är skrivet så levande.
Jag rekommenderar den verkligen, den kommer stanna kvar i mitt minne länge och jag kan absolut se mig själv göra en omläsning någon gång i framtiden.