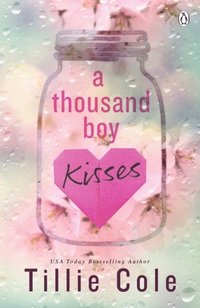 Originaltitel: A Thousand Boy Kisses
Sidor: 345 (Häftad)
"Rune Kristiansen and Poppy Litchfield met as children and swore to be friends forever. As teenagers, their friendship grew into a love that promised to last a lifetime. But their worlds were shattered when Rune was sent home to his native Norway.
Two years later, Rune is back, and Poppy is ready for their happy ever after to begin. But the boy who returns is not the Rune she remembers. What happened to turn her sweet, thoughtful Rune into this brooding stranger? And will the secret Poppy is carrying bring them closer together or separate them forever?"
Det här är en bok jag nog inte hade plockat upp själv om jag inte hade fått låna den av personen som ville att jag skulle läsa den. Hon sa att det är en bok man gråter mycket till och vi ville se om jag skulle gråta lika mycket som hon hade gjort.
Det gjorde jag. Tårarna har runnit som vattenfall med jämna mellanrum genom hela boken. Det började redan på sida 13 och sen fortsatte det bara. Jag uppskattar att konflikten mellan de två karaktärerna egentligen inte fick ta upp så mycket plats i boken, så det blev inte en hel berättelse full av missförstånd och bråk. Istället får man se karaktärerna växa och utvecklas samtidigt som de går igenom något väldigt jobbigt tillsammans.
Letar du en känslosam bok som är både fin och sorglig är det här ett tips.