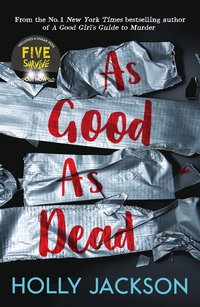 Originaltitel: As Good As Dead
Sidor: 565 (Häftad)
Serie: A Good Girl's Guide to Murder (del 3)
Ålder: Unga vuxna
"Pip Fitz-Amobi is haunted by the way her last investigation ended. Soon she'll be leaving for Cambridge University but then another case finds her...and this time it's all about Pip. Pip is used to online death threats, but there's one that catches her eye, someone who keeps asking: who will look for you when you're the one who disappears? And it's not just online. Pip has a stalker who knows where she lives. The police refuse to act and then Pip finds connections between her stalker and a local serial killer. The killer has been in prison for six years, but Pip suspects that the wrong man is behind bars. As the deadly game plays out, Pip realises that everything in Little Kilton is finally coming full circle. If Pip doesn't find the answers, this time she will be the one who disappear..."
Wow vilken avslutning. Det är en tegelsten till bok men jag läste ut den på två dagar. Det gick inte att sluta.
Jag har suttit med andan i halsen, nerverna utanpå huden och hjärtat hamrande i bröstet. Det har varit så spännande. Och när sista sidan kom var det nästan så det föll några tårar.
Innan jag började läsa var jag lite nervös för jag hade hört att den här delen är den många tycker minst om. Jag hade hört att den blir för mörk. Och mörk blir den, men jag har inget emot det.
Det går inte att säga så mycket om den utan att avslöja för mycket om tidigare böcker. Så det här blir ett kort inlägg. Har ni inte läst den här serien tycker jag verkligen ni borde ge den en chans!