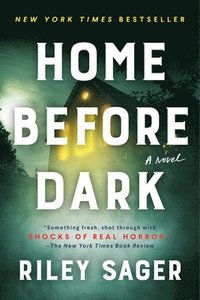 Originaltitel: Home Before Dark
Sidor: 413 (Häftad)
"Twenty-five years ago, Maggie Holt and her parents, Ewan and Jess, moved into Baneberry Hall, a rambling Victorian estate in the Vermont woods. Three weeks later they fled in the dead of night, an ordeal Ewan later recounted in a nonfiction book called House of Horrors. His horror memoir of ghostly happenings and encounters with malevolent spirits became a worldwide phenomenon, rivaling The Amityville Horror in popularity-and skepticism.
Today, Maggie is a restorer of old homes and too young to remember any of the events mentioned in her father's book. But she also doesn't believe a word of it. Ghosts, after all, don't exist. When Maggie inherits Baneberry Hall after her father's death, she returns to renovate the place to prepare it for sale. But her homecoming is anything but warm. People from the past, chronicled in House of Horrors, lurk in the shadows. And locals aren't thrilled that their small town has been made infamous thanks to Maggie's father. Even more unnerving is Baneberry Hall itself-a place filled with relics from another era that hint at a history of dark deeds. As Maggie experiences strange occurrences straight out of her father's book, she starts to believe that what he wrote was more fact than fiction."
Jag tyckte verkligen, verkligen om den här boken! Den var alldeles lagom creepy på det bästa sättet. Det är inte direkt jumpscares utan mer småsaker som stör, lampor som tänds när ingen är i närheten, musik som börjar spela, saker som försvinner. Det gjorde så stämningen blev perfekt och jag satt med spända nerver nästan hela tiden.
Man får dessutom läsa delar ur House of Horrors-boken som Maggies pappa skrev, så det är en bok i en bok. Jag tycker det funkar riktigt bra och ger mer tyngd åt allt som utspelar sig i nutid när Maggie återvänder till huset för att ta reda på vad som egentligen hände när hon var liten.
Kvällen jag läste ut den hade sambon precis gått och lagt sig och jag var också på väg till sängen för vi båda skulle upp tidigt men jag hade bara några sidor kvar och kunde inte sluta för det var så spännande. Jag gick förbi sovrumsdörren, viftade med boken och hojtade något i stil med "Jag kommer snart måste bara läsa ut den här först!".
Lässtunderna har varit sådana jag längtat till. Den har dessutom korta kapitel som gjort att läsningen flutit på smidigt hela tiden. Det inbjuder till långa stunder med näsan i boken.
Nu är jag jätteglad att jag har Lock Every Door av Sager väntades här hemma. Om jag kan ska jag försöka få in den i nästa månads hög. Jag hoppas den är lika bra som Home Before Dark.