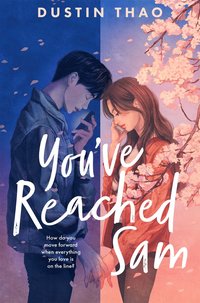 Originaltitel: You've Reached Sam
Sidor: 296 (Häftad)
"Seventeen-year-old Julie has her future all planned out: move out of her small town with her boyfriend Sam, attend college in the city, spend a summer in Japan. But then Sam dies. And everything changes. Desperate to hear his voice one more time, Julie calls Sam's phone just to listen to his voicemail. And Sam picks up the phone..."
Jag har hört att den här boken ska få läsaren att gråta, och jag gråter till i princip allt möjligt nu för tiden så jag förväntade mig att ha floder rinnande från ögonen.
Men nja, det är först på de allra sista sidorna jag blir lite tårögd. Jag tycker tyvärr att det är lite för mycket upprepningar i berättelsen. Julie upprepar sig ofta om hur hon önskar hon kunde berätta för folk om hennes sätt att prata med Sam, hur den hemligheten är jobbig att bära på osv. Och det blir tjatigt för mig. Jag behöver inte påminnas om det om och om igen, jag förstår.
Det är annat jag också tycker bara blir repetitioner under berättelsens gång och den lyckas tyvärr inte beröra mig som jag trodde att den skulle göra.