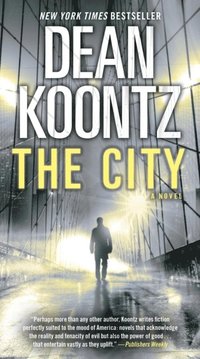 Originaltitel: The City
Sidor: 529 (Häftad)
"A young boy, a musical prodigy, discovering life´s wonders and mortal dangers. His best friend, also a gifted musician, who will share his journey into destiny. His remarkable family, tested by the extremes of evil and bound by the depths of love...on a collision course with a band of killers about to unleash anarchy. And two unlikely allies, an everyday hero tempered by the past and a woman of mystery who holds the key to the future. These are the people of The City, a place where enchantment and malice entwine, courage and honor are found in the most unexpected quarters, and the way forward lies buried deep inside the heart. Brilliantly illumined by magic dark and light, their unforgettable story is a riveting, soul-stirring saga that speaks to everyone, a major milestone in the celebrated career."
Koontz är ju en av mina stora favoriter. Jag vill läsa så mycket jag bara kan av det han skriver.
The City blir dock inte en ny favoritbok. Den är lite för långsam och lång. Det blir riktigt spännande några gånger men mellan de gångerna är det något som inte riktigt klickar för mig. Jag gillar verkligen karaktärerna, jag tycker om att hänga med dem och gillar vänskaperna som skildras.
Men själva handlingen blir inte så engagerande som jag hade hoppats på. Kanske är det så att det var fel tid för mig att läsa boken. Kanske trodde jag att den skulle vara mer läskig än den var och gick in med fel förväntningar.
Jag vet inte riktigt, det är svårt att sätta fingret på exakt vad det var.