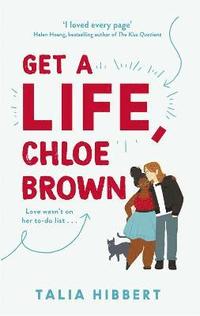 Originaltitel: Get a Life, Chloe Brown
Sidor: 369 (Häftad)
"Chloe Brown is a chronically ill computer geek with a goal, a plan and a list. After almost - but not quite - dying, she's come up with a list of directives to help her 'Get a Life': - Enjoy a drunken night out - Ride a motorbike - Go camping - Have meaningless but thoroughly enjoyable sex - Travel the world with nothing but hand luggage - And...do something bad But it's not easy being bad, even when you've written out step-by-step guidelines. What Chloe needs is a teacher, and she knows just the man for the job: Redford 'Red' Morgan. With tattoos and a motorbike, Red is the perfect helper in her mission to rebel, but as they spend more time together, Chloe realises there's much more to him than his tough exterior implies. Soon she's left wanting more from him than she ever expected...maybe there's more to life than her list ever imagined?"
Jag är ingen storläsare av romance, det är ett väldigt nytt område för mig. Så jag var absolut inte beredd på den dos terapi jag fick av den här boken.
Okej, låt oss blir lite personliga. Jag har alltid, så länge jag kan minnas, jämfört min kropp med kändisars. Och av någon anledning är det speciellt min mage jag haft problem med. Jag växte upp med musikvideos där jag såg kvinnor som Britney Spears osv. Alla med superplatta vältränade magar. Och jag har hatat min egen mage i så många år, för den kommer aldrig att se ut så. Det har inte spelat någon roll vilka komplimanger jag fått av partners under åren, jag har aldrig kommit överens med den.
Så kommer den här boken, där Chloe beskrivs som kurvig, hennes mage som mjuk och Red tycker den är fantastisk och sexig. Och av någon anledning nådde det fram till en del djupt inne i mig som fick mig att mjukna, taggarna mot mig själv drog sig tillbaka en bit. Kanske är det bara tillfälligt, men det är mer än jag varit med om tidigare. När jag skriver det här sitter jag tårögd, det är så svårt att beskriva ordentligt hur den påverkade mig och hur tacksam jag är för den upplevelsen.
Förutom det tycker jag resten av boken också är riktigt bra. Jag gillar att se hur förhållandet mellan Chloe och Red växer fram. Båda har bagage som de måste lära sig att hantera för att kunna lita på någon igen och allt känns riktigt trovärdigt.
Den är ganska steamy med detaljerat sex så är det något man inte gillar kanske det är fel bok att plocka upp. Men jag blev verkligen positivt överraskad och är så glad att jag läste den. Den gav mig mycket mer än jag trodde att den skulle göra.