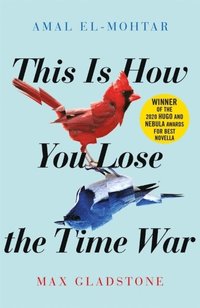 Originaltitel: This is How You Lose the Time War
Sidor: 198 (Häftad)
"Among the ashes of a dying world, an agent of the Commandant finds a letter. It reads: Burn before reading. Thus begins an unlikely correspondence between two rival agents hellbent on securing the best possible future for their warring factions. Now, what began as a taunt, a battlefield boast, grows into something more. Something epic. Something romantic. Something that could change the past and the future. Except the discovery of their bond would mean death for each of them. There's still a war going on, after all. And someone has to win that war. That's how war works. Right?"
Det här är en väldigt speciell bok. Den hoppar fram och tillbaka i tiden och mellan olika världar. Vi får följa två agenter på varsin sida om ett krig. De börjar utväxla små lappar med varandra, i början mest nästan som hån. Men allt eftersom tiden går växer något mer fram, någon sorts vänskap, någon sorts kärlek. Samtidigt måste de hålla allt hemligt, deras överordnade får inte veta att de har kontakt.
Egentligen är det mycket mer än det jag lyckas berätta här ovan. Det finns så många detaljer och snyggt ihopflätade trådar. Saker som händer i början men som får mening först i slutet. Den är otroligt skickligt skriven.
Av de två karaktärerna fastnar jag mest för Blue. Det är nog mest på grund av skrivsättet i hennes delar. Jag tycker Reds delar är lite mer svårlästa. Trots att jag har lite svårare för Reds kapitel tycker jag verkligen om boken och jag är riktigt imponerad hur författarna knyter ihop allt!