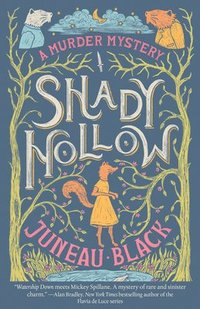 Originaltitel: Shady Hollow
Sidor: 240 (Häftad)
Serie: Shady Hollow (del 1)
"Reporter Vera Vixen is a relative newcomer to Shady Hollow. The fox has a nose for news, so when she catches wind that the death might be a murder, she resolves to get to the bottom of the case, no matter where it leads. As she stirs up still waters, the fox exposes more than one mystery, and discovers that additional lives are in jeopardy.
Vera finds more to this town than she ever suspected. It seems someone in the Hollow will do anything to keep her from solving the murder, and soon it will take all of Vera's cunning and quickness to crack the case."
Det här är en riktigt bra mysdeckare! Perfekt om man inte vill ha massa blodiga detaljer och inte har något emot att alla karaktärer är skogsdjur som lever tillsammans i det lilla samhället Shady Hollow.
Jag tycker det är väldigt charmigt och fastnar snabbt för de olika djuren. Hade jag kunnat hade jag lätt besökt caféet som beskrivs, varje scen som utspelade sig där gjorde mig otroligt kaffesugen. Vera är en smart och modig journalist som börjar gräva i dödsfallet och ligger oftast några steg före poliserna, två björnar.
Det var en bok jag längtade efter att plocka upp igen de stunder jag inte kunde läsa. Hittills finns det tre böcker i serien, jag kommer absolut att beställa del två och tre och håller tummarna för att det blir fler efter det!