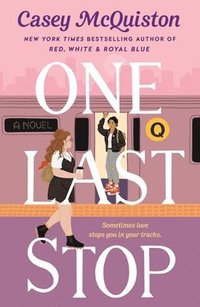 Originaltitel: One Last Stop
Sidor: 422 (Häftad)
"For cynical twenty-three-year-old August, moving to New York City is supposed to prove her right: that things like magic and cinematic love stories don't exist, and the only smart way to go through life is alone. She can't imagine how waiting tables at a 24-hour pancake diner and moving in with too many weird roommates could possibly change that. And there's certainly no chance of her subway commute being anything more than a daily trudge through boredom and electrical failures.
But then, there's this gorgeous girl on the train. Jane. Dazzling, charming, mysterious, impossible Jane. Jane with her rough edges and swoopy hair and soft smile, showing up in a leather jacket to save August's day when she needed it most. August's subway crush becomes the best part of her day, but pretty soon, she discovers there's one big problem: Jane doesn't just look like an old school punk rocker. She's literally displaced in time from the 1970s, and August is going to have to use everything she tried to leave in her own past to help her. Maybe it's time to start believing in some things, after all."
Jag älskar den här boken. Precis som författarens förra bok, Rött, vitt & kungligt blått, lämnar den mig med ett leende och en känsla av att ha umgåtts med ett gäng nära vänner under hela läsningen.
Vi får följa August som flyttar till New York, hon flyttar in med ett gäng främlingar som blir hennes nära vänner, får ett jobb på ett pannkaksställe och pluggar. På tunnelbanan träffar hon Jane, en tjej som hon genast dras till och de börjar prata varje dag när August åker fram och tillbaka. Men något är underligt med Jane. Så samtidigt som August faller mer och mer försöker hon lista ut vad som är fel och vad hon kan göra åt det.
Jag kan tänka mig att en del kanske uppfattar den som långsam, men för mig är det inget som stör. Jag bara njuter av att umgås med karaktärerna så länge som möjligt. Författaren har verkligen lyckats skapa många olika starka personligheter och jag vill vara vän med dem alla. Augusts och Janes berättelse är både fin att följa och har en väldigt intressant twist.
Det kan hända att jag har en liten crush på Jane också. Nu önskar jag bara att jag kunde uppleva den för första gången en gång till.