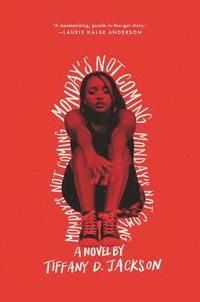 Originaltitel: Monday´s Not Coming
Sidor: 435 (Häftad)
Ålder: Unga vuxna
"Monday Charles is missing, and only Claudia seems to notice. Claudia and Monday have always been inseparable - more sisters than friends. So when Monday doesn't turn up for the first day of school, Claudia's worried. When she doesn't show for the second day, or second week, Claudia knows that something is wrong. Monday wouldn't just leave her to endure tests and bullies alone. Not after last year's rumors and not with her grades on the line. Now Claudia needs her best-and only-friend more than ever.
But Monday's mother refuses to give Claudia a straight answer, and Monday's sister April is even less help. As Claudia digs deeper into her friend's disappearance, she discovers that no one seems to remember the last time they saw Monday. How can a teenage girl just vanish without anyone noticing that she's gone?"
Jag blev nästan tvingad av Jennifer på Jenlovebooks att läsa Monday´s Not Coming. Hon har själv läst den och tyckte den var fantastisk.
Jag får helt enkelt lov att hålla med henne. Det är en otroligt berörande berättelse om Claudia som verkar vara den enda som bryr sig om att hennes bästa vän, Monday, inte dyker upp till skolan när den nya terminen börjar. En dag går, två dagar, veckor, månader. Men ingen tar hennes oro på allvar så Claudia försöker själv lista ut vad som hänt.
Varvat med Claudias dagar då hon funderar över var Monday kan vara får vi tillbakablickar på stunder från deras vänskap. Saker de kämpat med i skolan och i vardagslivet. Små hintar som avslöjar att Claudia kanske inte vet allt om Mondays liv ändå. Som läsare känner jag klumpen i magen växa, jag ser åt vilket håll det är på väg långt innan Claudia gör det. Men trots det finns det saker jag inte förstår förrän på slutet, vändningar som tar mig med överraskning och vrider om hjärtat lite extra.
Det är en otroligt bra bok som kryper in under skinnet på mig under läsningen. Jag tänkte på den när jag inte läste, längtade tillbaka till boken och när det närmade sig slutet ville jag bara läsa, läsa, läsa. Nu ska jag se till att plocka upp fler böcker av författaren.