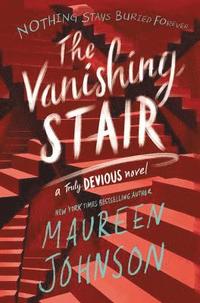 Originaltitel: The Vanishing Stair
Sidor: 373 (Inbunden)
Serie: Truly Devious (del 2)
Ålder: Unga vuxna
"The Truly Devious case - an unsolved kidnapping and triple murder that rocked Ellingham Academy in 1936 - has consumed Stevie for years. It's the very reason she came to the academy. But then her classmate was murdered, and her parents quickly pull her out of school. For her safety, they say. She must move past this obsession with crime.
Stevie's willing to do anything to get back to Ellingham, be back with her friends, and solve the Truly Devious case. Even if it means making a deal with the despicable Senator Edward King. And when Stevie finally returns, she also returns to David: the guy she kissed, and the guy who lied about his identity - Edward King's son.
But larger issues are at play. Where did the murderer hide? What's the meaning of the riddle Albert Ellingham left behind? And what, exactly, is at stake in the Truly Devious affair? The Ellingham case isn't just a piece of history - it's a live wire into the present."
The Vanishing Stair är andra delen i Truly Devious-serien. Vi får träffa den true crime-intresserade Stevie när hon på nytt tar sig till Ellingham för att försöka lösa det gamla mordfallet som länge hängt över skolan. Jag gillar verkligen Stevie som karaktär, hon känns så äkta och jag kan relatera till henne på många olika sätt. Dels är hon verkligen intresserad av true crime, dels kämpar hon också mot en del ångest. Jag tycker dessutom hennes ångest är väldigt bra beskriven, för mig är det så att jag kan känna igen mig väldigt mycket i hennes känslor.
Det är lite mer kärleksgruff i den här boken och det är inte min favoritdel av berättelsen. Men det blir ändå inte för mycket. Mysterierna både i dåtid och nutid är så pass intressanta att det är lätt att bara se förbi kärleksdramat.
The Vanishing Stair går otroligt fort att läsa. Sidorna bara flyger fram och jag är hela tiden nyfiken på hur det ska gå, vad som ska hända, vilka svar vi kommer få i den här boken och vilka som sparas till tredje delen. Som tur är har jag även den hemma och jag hoppas på att kunna läsa den i september för nu är jag sjukt nyfiken på de sista pusselbitarna!
Jag är verkligen glad att jag fått låna de här böckerna av Jennifer. Beroende på hur allting avslutas kan det bli en ny favoritserie!