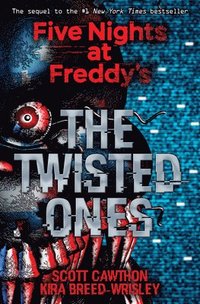 Originaltitel: The Twisted Ones
Sidor: 304 (Häftad)
Serie: Five Nights at Freddy's (del 2)
"It's been a year since the horrific events at Freddy Fazbear's Pizza, and Charlie is just trying to move on. Even with the excitement of a new school and a fresh start, she's still haunted by nightmares of a masked murderer and four gruesome animatronic puppets. Charlie thinks her ordeal is over, but when a series of bodies are discovered near her school - bearing wounds that are disturbingly familiar - she finds herself drawn back into the world of her father's frightening creations. Something twisted is hunting Charlie, and this time if it finds her, it's not letting her go."
Den här serien är så underhållande att läsa! Det är lagom spännande och creepy, samtidigt är den så lättläst att sidorna bara flyger fram och jag önskar nästan att boken var tjockare så jag fick befinna mig i den här skumma världen längre.
Huvudkaraktären är precis som i första boken Charlie. Hon tror att allt har lugnet ner sig nu efter händelserna i The Silver Eyes men hon kunde inte ha mer fel. Den här gången är det ännu värre. Nerverna är på helspänn igenom hela läsningen och även om jag irriterar mig på en del av Charlies beslut är själva upplevelsen så positiv att det inte stör alldeles för mycket.
Boken slutade dessutom på ett sätt som fick mig att önska att bok nummer tre fanns väntades i hyllan. Det gör den tyvärr inte och jag har sagt att jag inte ska köpa fler böcker på någon månad nu så jag får stå ut med lite väntan innan jag kan slänga mig in i fortsättningen för att se hur allt kommer att gå!