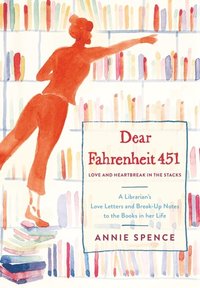 Originaltitel: Dear Fahrenheit 451
Sidor: 244 (Inbunden)
"A librarian's laugh-out-loud funny, deeply moving collection of love letters and breakup notes to the books in her life. If you love to read, and presumably you do since you've picked up this book (!), you know that some books affect you so profoundly they forever change the way you think about the world. Some books, on the other hand, disappoint you so much you want to throw them against the wall. Either way, it's clear that a book can be your new soul mate or the bad relationship you need to end.
In Dear Fahrenheit 451, librarian Annie Spence has crafted love letters and breakup notes to the iconic and eclectic books she has encountered over the years. From breaking up with The Giving Tree (a dysfunctional relationship book if ever there was one), to her love letter to The Time Traveler's Wife (a novel less about time travel and more about the life of a marriage, with all of its ups and downs), Spence will make you think of old favorites in a new way. Filled with suggested reading lists, Spence's take on classic and contemporary books is very much like the best of literature - sometimes laugh-out-loud funny, sometimes surprisingly poignant, and filled with universal truths. A celebration of reading, Dear Fahrenheit 451 is for anyone who loves nothing more than curling up with a good book...and another, and another, and another!"
Dear Fahrenheit 451 har stått i min bokhylla i några år nu och väntat på att äntligen bli upplockad. Stackarn har blivit bortvald flera gånger på grund av böcker som dykt upp och lockat ännu mer. Men det känns som att författaren själv känner igen det problemet så hon kanske skulle förlåta det!
Boken är uppbyggd av brev som Annie Spence skriver till böcker hon läst eller stött på i livet. Både privat och i jobbet som bibliotekarie. Ibland är det böcker jag hört talas om, någon enstaka gång är det en bok jag läst och i vissa fall är det väldigt udda böcker som hon hittat på bibliotekets hyllor. Oftast när det har varit dags för gallring.
Det är ganska charmig läsning och några av de skumma böckerna hon skriver till fick mig att sitta och le lite för mig själv. Men den nådde kanske inte upp till den mysiga och igenkännande känslan som jag hade hoppats på tyvärr. Jag upplevde den inte så rolig att jag skrattade högt som det står på baksidan att man kommer göra.
Så tyvärr blev det ingen fullträff för mig. Den var helt okej men inte mer än så.