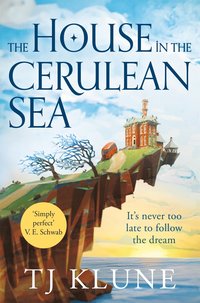 Originaltitel: The House in the Cerulean Sea
Sidor: 400 (Häftad)
"Linus Baker leads a quiet life. At forty, he has a tiny house with a devious cat and his beloved records for company. And at the Department in Charge of Magical Youth, he's spent many dull years monitoring their orphanages. Then one day, Linus is summoned by Extremely Upper Management and given a highly classified assignment. He must travel to an orphanage where six dangerous children reside, including the Antichrist. There, Linus must somehow determine if they could bring on the end of days. But their guardian, charming and enigmatic Arthur Parnassus, will do anything to protect his wards. As Arthur and Linus grow ever closer, Linus must choose between duty and his dreams."
Det är alltid nervöst att plocka upp en tokhyllad bok. Man vill ju så gärna älska boken lika mycket som alla andra. Speciellt när den beskrivs som fin och mysig.
Det här är en av gångerna då jag kan gå med i hyllningskören. The House in the Cerulean Sea är en riktigt mysig, fin och värmande bok. Det är en berättelse om att skapa sin egen familj, våga gå sin egen väg och ta chansen att bli lycklig även om det känns skrämmande.
Jag fullkomligt älskade karaktärerna. Det är verkligen de som gör boken till vad den är. Det finns många olika personligheter och speciellt barnen har sina unika sidor. Det går inte att göra annat än ta dem till sig när man läser.
Den lämnade mig med en alldeles varm känsla i hjärtat och jag blir glad av att bara titta på den. Jag kommer garanterat att skaffa fler böcker av TJ Klune i framtiden.