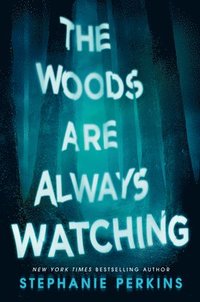 Originaltitel: The Woods Are Always Watching
Sidor: 221 (Häftad)
"Best friends Neena and Josie spent high school as outsiders, but at least they had each other. Now, with college and a two-thousand-mile separation looming on the horizon, they have one last chance to be together - a three-day hike deep into the woods of the Pisgah National Forest.
Simmering tensions lead to a detour off the trail and straight into a waking nightmare and then into something far worse. Something that will test them in horrifying ways."
Det här är en bok som börjar ganska stillsamt. Två vänner som ska ge sig ut på en vandring i skogen innan de skiljs åt för college. De har läst på, försökt förbereda sig men ingen av dem är erfaren när det gäller skogsliv och vandring. Allt går inte som de tänkt sig och det börjar slita på stämningen, små bråk avlöser varandra och det blir svårare att njuta av utflykten.
Sen smäller det till och det händer väldigt mycket! Då blir det riktigt spännande och obehagligt. Jag sitter på nålar, håller andan och måste fortsätta läsa till slutet så jag får veta om saker löser sig eller om det går helt åt helvete.
Har du planerat in en vandringstur kanske du inte ska plocka upp den här boken precis innan, jag tror inte det är hälsosamt för nerverna.