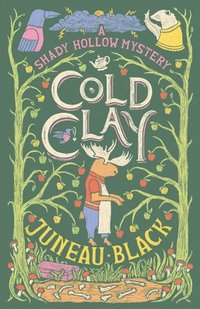 Originaltitel: Cold Clay
Sidor: 224 (Häftad)
Serie: Shady Hollow (del 2)
"It's autumn in Shady Hollow, and residents are looking forward to harvest feasts. But then a rabbit discovers a grisly crop: the bones of a moose.
Soon, the owner of Joe's Mug is dragged out of the coffeeshop and questioned by the police about the night his wife walked out of his life--and Shady Hollow--forever. It seems like an open-and-shut case, but dogged reporter Vera Vixen doesn't believe gentle Joe is a killer. She'll do anything to prove his innocence...even if it means digging into secrets her neighbors would rather leave buried."
Cold Clay är precis lika mysig läsning som första delen i serien om Shady Hollow. Det här är lättsamma deckare med skogsdjur som karaktärer. Det är varken läskigt eller blodigt. Lite småspännande och klurigt bara.
Extra härlig stämning blir det av att berättelsen utspelar sig på hösten så det passar perfekt nu när det börjar bli höstigt även utanför mina egna fönster. Jag gillar Vera Vixen, en räv som är journalist och löser mysterierna i det lilla skogssamhället. Till sin hjälp har hon bland annat bästa vännen som är en korp, och som dessutom äger en bokaffär.
Ja alltså ni hör ju. Det är väldigt hög mysfaktor på lässtunderna med de här böckerna. Det finns en tredje också och den ser jag fram emot att läsa.