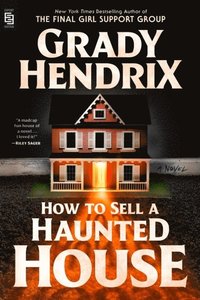 Originaltitel: How to Sell a Haunted House
Sidor:
413 (Häftad)
"Louise's parents have passed away, and she's returning home to the small town she grew up in to get their house ready to sell. It means she'll have to spend time with her younger brother-and their old grudges make that a slightly terrifying prospect. But childhood hurts pale in comparison to what the house has in store, and as Louise and her brother begin trying to get the house ready to sell, they'll learn that nothing can possess you like family can."
Jag har länge sagt att jag avskyr dockor. Nu kan vi lägga till handdockor och marionetter till den listan. Fy sjutton, den här boken har inte varit bra för mina nerver.
Det går från lite smått creepy till helgalet läskigt och actionfyllt. Och jag tycker det är riktigt underhållande samtidigt som jag flera gånger bara vill slänga iväg boken till andra sidan rummet för att det är så obehagligt.
Mitt i allt det här finns dessutom trassliga familjerelationer, hemligheter, skam och skuld. De två syskonen, Louise och Mark, är väldigt olika och har svårt att komma överens om något överhuvudtaget. Båda har förutfattade meningar om den andre och det är först när det blir uppenbart att något i huset vill dem illa som de måste börja samarbeta och reda ut sin familjehistoria.
Jag tyckte verkligen om den! How to Sell a Haunted House är en bladvändare som aldrig blev tråkig och jag hade svårt att slita mig ifrån den. Hittills har Grady Hendrix inte gjort mig besviken.