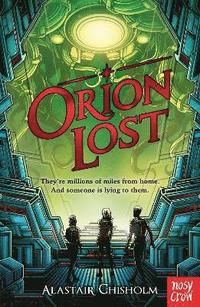 Originaltitel: Orion Lost
Sidor: 360 (Häftad)
Ålder: 9-12
"The transport ship Orion is four months out of Earth when catastrophe strikes - leaving the ship and everyone on board stranded in deep space. Suddenly it's up to thirteen-year-old Beth and her friends to navigate through treacherous and uncharted territory to reach safety. But a heavily damaged ship, space pirates, a mysterious alien species, and an artificial intelligence that Beth doesn't know if she can trust means that getting home has never been so difficult..."
Vilket härligt äventyr den här boken tog med mig på! Här finns mystiska utomjordingar, rymdpirater och ett skepp som helt plötsligt styrs av några tonåringar.
Beth vaknar upp efter att skeppet hon färdas i har försatt alla i sömn på grund av någon oväntad och okänd händelse. Skeppets AI har även utsett henne, en trettonåring, till kapten. Hon väcker några andra i sin ålder och tillsammans måste de försöka rädda alla. De får klara sig själva då de vuxna inte kan väckas.
Som man kanske kan ana går det inte smärtfritt när de ska försöka komma överens om hur de ska agera och vad som är bäst. Men det är väldigt fint att se hur Beth växer under berättelsen och hur hon blir säkrare i sig själv.
Det är dessutom spännande när de försöker undkomma faror och lista ut vem de kan lita på! Jag tyckte verkligen om boken och sidorna flög fram. Jag uppskattar läsglädjen som många böcker i den här åldersgruppen väcker till liv.