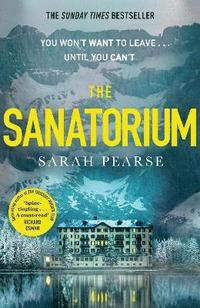 Originaltitel: The Sanatorium
Sidor: 400 (Inbunden)
"An imposing, isolated hotel, high up in the Swiss Alps, is the last place Elin Warner wants to be. But she's taken time off from her job as a detective, so when she receives an invitation out of the blue to celebrate her estranged brother's recent engagement, she has no choice but to accept.
Arriving in the midst of a threatening storm, Elin immediately feels on edge. Though it's beautiful, something about the hotel, recently converted from an abandoned sanatorium, makes her nervous - as does her brother, Isaac. And when they wake the following morning to discover his fiancee Laure has vanished without a trace, Elin's unease grows. With the storm cutting off access to and from the hotel, the longer Laure stays missing, the more the remaining guests start to panic. But no-one has realized yet that another woman has gone missing. And she's the only one who could have warned them just how much danger they're all in..."
Jag är lite kluven till The Sanatorium. Mycket är nog för att jag gick in i den med fel förväntningar. Av någon anledning hade jag trott att den skulle vara lite mer spooky istället för bara mördarcreepy. Hade jag inte trott det hade jag nog uppskattat den mer, även om det finns saker som troligtvis hade stört mig ändå.
Dels finns det en twist som jag förutsåg långt innan den avslöjades, det är alltid lite tråkigt. Men det var så uppenbart till och med för mig som oftast inte brukar lista ut saker i förväg. Upplösningen var också lite nja. Men sedan finns det stunder som verkligen lyser, de är klaustrofobiska och spännande. Ganska tidigt i boken finns en scen som fick mig att hålla andan.
Så även om det här inte blev en fullpoängare kommer jag hålla utkik efter fler böcker av författaren för jag vill se vad mer hon kan göra.