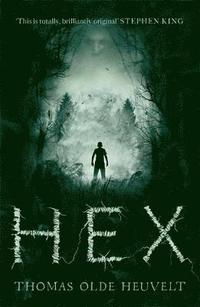 Originaltitel: Hex
Sidor: 384 (Häftad)
"Whoever is born here, is doomed to stay until death. Whoever comes to stay, never leaves.
Welcome to Black Spring, the seemingly picturesque Hudson Valley town haunted by the Black Rock Witch, a seventeenth-century woman whose eyes and mouth are sewn shut. Blind and silenced, she walks the streets and enters homes at will. She stands next to children's beds for nights on end. So accustomed to her have the townsfolk become that they often forget she's there. Or what a threat she poses. Because if the stitches are ever cut open, the story goes, the whole town will die. The curse must not be allowed to spread.
The elders of Black Spring have used high-tech surveillance to quarantine the town. Frustrated with being kept in lockdown, the town's teenagers decide to break the strict regulations and go viral with the haunting. But, in so doing, they send the town spiraling into a dark nightmare."
Hex var riktigt härlig läsning! Krypande obehagligt vissa gånger och skrämmande andra. Många gånger var det mest skrämmande inte det man förväntade sig, vilket påminner mig lite om Stephen Kings sätt att skriva.
Berättelsen tar med mig på en känslomässig bergochdalbana och jag sitter med hakan i golvet vid flera tillfällen och tänker "Gjorde författare verkligen det där..?". Det är något positivt enligt mig för det funkar verkligen. Han trycker på knappar och vågar göra det som läsaren kanske inte väntar sig. Jag kan däremot tänka mig att det är något som kan dela läsare, vissa kommer tycka om det, andra kommer hata det.
Själva tanken tycker jag dessutom är så fascinerande. Hur en hel stad lär sig leva med att de blir hemsökta av en häxas vålnad och lyckas hålla det hemligt för resten av världen. Den delade hemligheten kommer med både gott och ont.
Det var verkligen en positiv läsupplevelse och jag ser fram emot att läsa mer från Thomas Olde Heuvelt i framtiden!