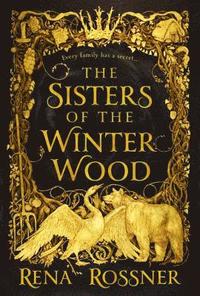 Originaltitel: The Sisters of the Winter Wood
Sidor: 464 (Inbunden)
Ålder: Unga vuxna
"In a remote village surrounded by vast forests on the border of Moldova and Ukraine, sisters Liba and Laya have been raised on the honeyed scent of their Mami´s babka and the low rumble of their Tati´s prayers. But when a troupe of mysterious men arrives, Laya falls under their spell - despite her mother´s warning to be wary of strangers. And this is not the only danger lurking in the woods.
As dark forces close in on their village, Liba and Laya discover a family secret passed down through generations. Faced with a magical heritage they never knew existed, the sisters realize the old fairy tales are true... and could save them all."
The Sisters of the Winter Wood köpte jag på secondhand något år när jag hälsade på i Umeå. Det var nog helt ärligt mest utsidan som lockade, jag hade inte hört talas om den tidigare. När jag väl hade plockat upp den tyckte jag den lät väldigt intressant också, som en saga.
Sagokänslan är där hela berättelsen. Vi får följa allt ur de två systrarnas perspektiv. Libas kapitel är skrivna som en vanlig roman medan Layas är skrivna i versform. För mig gör det att Libas delar känns mer kompakta, allvarliga och ansvarstyngda medan Layas är väldigt drömska och undflyende. Jag har ingen aning om det är precis det som är tanken med formatet men jag tycker de båda olika tolkningarna passar bra in på systrarnas personligheter också.
Författaren blandar in sagoelement med allvarliga ämnen. Systrarna och deras familj är judar och sakta börjar hat mot judar sippra in i deras by och hota deras liv där. Samtidigt upptäcker de hemligheter om sin släkt som förändrar allt.
Det är en vackert skriven och medryckande berättelse som går ganska fort att ta sig igenom. En sak som gör den ganska snabbläst är Layas delar där det inte alls är mycket text på sidorna. Jag har ingen koll på om författaren har skrivit fler böcker men det är något jag ska ta reda på för den här gav mersmak!