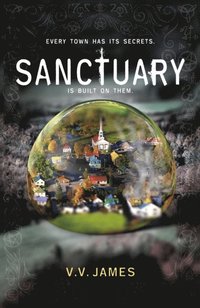 Originaltitel: Sanctuary
Sidor: 448 (Inbunden)
"To Detective Maggie Knight, the death of Sanctuary´s star quarterback seems to be a tragic accident. Then the rumours start. Everyone knoes his ex-girlfriend is the daughter of a witch - and she was there when he died.
Bereaved mother Abigail will stop at nothing until she has justice for her dead son. Her best friend Sarah will do everything in her power to protect her accused daughter. And the women share a secret that could shatter their lives.
As accusations fly, it falls to Maggie to find out the truth before her investigation spirals out of control. And the town becomes no sanctuary at all."
Jag hade aldrig hört talas om Sanctuary när jag fick boken från Jenlovebooks som rensade sina hyllor. Men jag tyckte den lät lite spännande och tänkte att det blir underhållande läsning.
Det jag inte var beredd på var alla känslor som skulle komma kraschande under berättelsens gång! Frustration, ilska, önskan att vilja dunka huvudet i väggen över hur lätt människor bara vänder sig emot sånt de inte förstår. Det här är en fiktiv berättelse, men det är verkligen inte svårt att se att det skulle gå precis så här i verkligheten också. Den har ju på sätt och vis redan gjort det en gång under häxjakterna som hänt runt om i världen.
Den berörde mig verkligen mycket mer än vad jag förväntade mig. Jag har varit väldigt engagerad i karaktärerna och hur det ska gå för de jag hejar på. Det blev en väldigt positiv överraskning och jag är riktigt glad att jag gav den en chans utan att veta något om den!