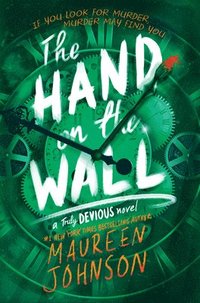 Originaltitel: The Hand on the Wall
Sidor: 368 (Inbunden)
Serie: Truly Devious (del 3)
Ålder: Unga vuxna
"Ellingham Academy must be cursed. Three people are now dead. One, a victim of either a prank gone wrong or a murder. Another, dead by misadventure. And now, an accident in Burlington has claimed another life. All three in the wrong place at the wrong time. All at the exact moment of Stevie's greatest triumph...
She knows who Truly Devious is. She's solved it. The greatest case of the century. At least, she thinks she has. With this latest tragedy, it's hard to concentrate on the past. Not only has someone died in town, but David disappeared of his own free will and is up to something. Stevie is sure that somehow all these things connect. The three deaths in the present. The deaths in the past. The missing Alice Ellingham and the missing David Eastman.
Somewhere in this place of riddles and puzzles there must be answers. Then another accident occurs as a massive storm heads toward Vermont. This is too much for the parents and administrators. Ellingham Academy is evacuated. Obviously, it's time for Stevie to do something stupid. It's time to stay on the mountain and face the storm-and a murderer."
Jag blir så glad när en trilogi håller hela vägen. Truly Devious gör verkligen det. Det är en ny favorit.
Eftersom det här är tredje boken kan jag inte skriva så mycket om själva handlingen utan nöjer mig med att säga att den är lika bra som de två tidigare böckerna. Jag tycker verkligen om Stevie som karaktär. Jag känner igen mig i true crime-intresset och panikångesten. Allting känns så verklighetstroget och det är nästan som att se en film spelas upp i huvudet samtidigt som jag läser. Jag ser hela skolan och naturen runt omkring, jag ser karaktärerna och deras äventyr. Det hade varit lite roligt att se de här böckerna bli filmatiserade. Jag skulle säkert bli besviken men hade ändå gärna sett det!
Nyligen kom det ut en fjärde bok om Stevie när hon är på en helt annat plats och har något annat fall på gång. Jag ser verkligen fram emot att läsa den framöver!